From a vision to a global concern
In 1984, entrepreneur Thomas Sabo laid the foundations for a company that was to become the embodiment of high-end silver jewellery within a period of just a few years. Since then, the brand has internationally made a name for itself with hand-finished creations and a constantly-growing watches segment. With more than 1,200 employees own points-of-sale and a sales and distribution operation that includes 70 countries, the THOMAS SABO Group is today one of the leading premium-sector jewellery and watch suppliers. This position is strengthened by the in-house E-Commerce operations as well as long-term relationships with well-known jewellers and business partners throughout the world. Since the brand was founded, the name THOMAS SABO has been a clear promise of quality for the company's global and responsible thinking in relation to customers, business relationships, society and the environment.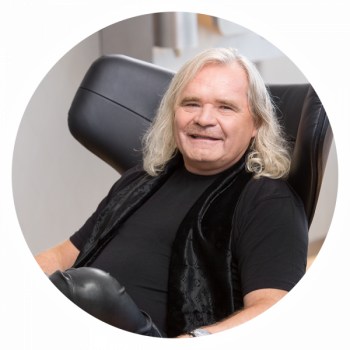 "I believe my responsibility lies in responding to the growing challenges of retail with cohesiveness and flexibility. Both today and in the future."
Thomas Sabo, Company founder
With passion and charisma
As a medium-sized, owner-run enterprise, we have retained the values and the pioneering spirit of a family company. Our heart beats for people who are committed, dynamic and innovative. Our designs are personal, unique and emotive – and we love creating new ones every day.
Always in tune with the times
Small creations with a huge impact: Our entire range of jewellery and watches is created by a team of international designers at our headquarters in Lauf an der Pegnitz – generating quite a furore throughout the world. We present our collections twice a year to coincide with the big prêt-à-porter shows in Paris, Milan and New York. Precisely those places where trends are set. Always the focus of all THOMAS SABO designs: glamorous charisma, a unique look and modern diversity. Whether a spectacular pendant crafted from Sterling silver or a luxurious bracelet with hand-cut stones, whether a unique eye-catcher for an elegant business outfit or a dazzling addition to a fabulous party dress: all items bearing our name make a real statement. And can be beautifully combined with each other.
Where it all happens
It is at the international company headquarters in Lauf an der Pegnitz where everything comes together. This small town in the Franconian region of Germany has – with its around 500 employees – been home to the THOMAS SABO Group since it was established. This is also the centre of our creative energy and where our creative, marketing and sales and distribution divisions are located. It is where all our global activities are controlled and managed. Here, we have – with the new company building completed in 2016 – created a space that reflects our passion for modern design.